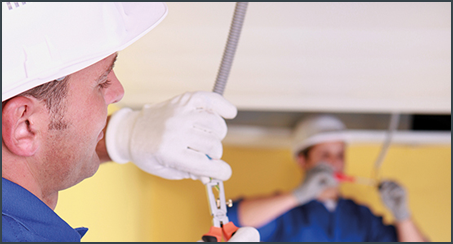 Facilties Management Groups of Services
Categorised groupins of our services allow for a greater discount on these items:

Fire Alarm Servicing
Intruder Alarm
Emergency Lighting
Fire Fighting Equipment
From as little as £1,000
per annum

Service
Gas Boiler Service
Fan Convectors
Sprinkler System
Kitchen Extraction
From as little as £800
per annum

Pat Testing (70p each)
Microwave Testing
Steps and Ladders x5
Periodic Electrical 5 yrly inspection
Lightening Protection
Kiln
From as little as £2,700
per annum

Electric Gates
Door Access Systems
CCTV
Lifts and Hoists
From as little as £1,150
per annum
Facilties Management Groups of Services
We operate throughout the UK, priding ourselves on our ability to cover all areas whilst not compromising our quality standards.
Our rates are very competitive and as would be expected, are in line with the service that we deem to provide.
Health and safety is paramount throughout our organisation with all personnel being fully compliant and competent in their own trade.

HC Ceilings & Dry Lining Ltd provides a comprehensive service to the commercial, retail, industrial, domestic and insurance sectors.
We offer a complete facilities management service ranging from reactive maintenance through planned preventative maintenance.
We have the ability and expertise to hand to cover all aspects of insurance reinstatement works, validations, claims surveying and claims project management, which generally falls within the remit of our minor works team.
Our project work covers all aspects and disciplines of a building's upkeep. All packages are tailor made to each of our client's specific needs, whether the requirement is large or small.
We pride ourselves on giving you the best of both worlds: all the efficiency savings of outsourcing, plus the same degree of control, commitment and accountability you'd have if you did it all in-house.
In the current climate, everyone needs to economise, and we can deliver that – savings of up to 15% from day one, guaranteed. But we're also helping our clients seize this opportunity to make more far-reaching changes to the way they do business, by reducing costs and increasing value. This is exactly where we can help. Our approach is designed to save you money today, and make your business more efficient and sustainable for tomorrow.
Substantial discounts available for schools
if purchasing our services as part of their cluster group.
For example if three schools sign from the same group 10% per school reduction.
Engaging with the curriculum
Many of the services we provide can complement the curriculum and provide practical examples for use in class. We make every effort to support the delivery of the curriculum and engage with learners.
Engaging with the community
We appreciate the role that schools play in the provision of accessible community facilities and the importance of engagement with local organisations. We actively support our clients to meet their community use objectives. As an organisation we have developed a distinctive social partner approach which we implement across a range of contracts.
DBS Clearance
All staff that work for us have cleared Disclosure and Barring Service (DBS) records and we hold clear records for you which will be disclosed before every visit.
FREE SITE SURVEY
Contact us on 0121 456 0715 to arrange for
a FREE site survey and to discuss your facilities
management needs.